WELCOME TO THE WEBSITE OF EAST SCOTLAND PROVINCIAL GRAND CONCLAVE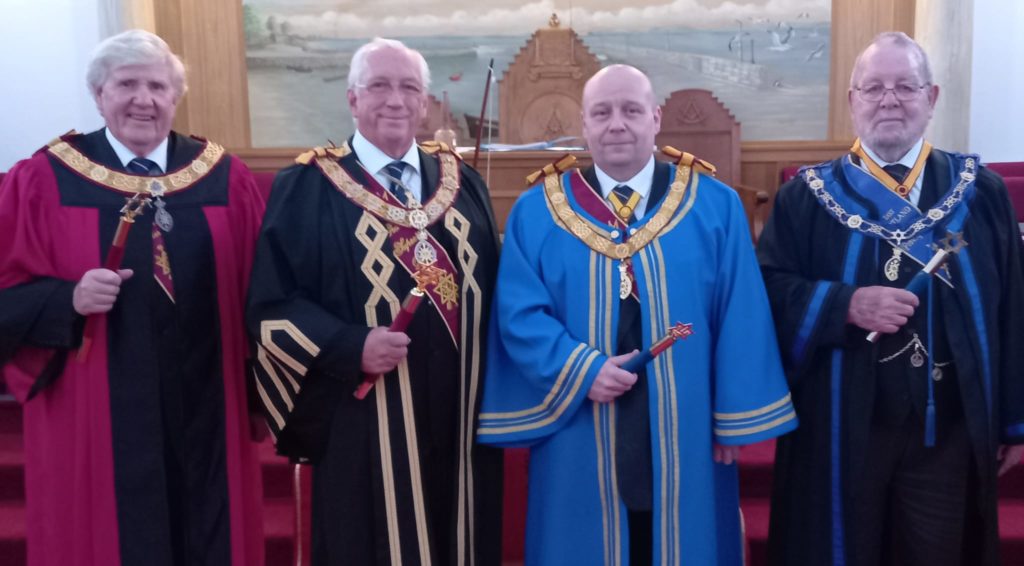 Welcome to the website for the Provincial Grand Conclave of East Scotland. The Province is now over thirty years old having been consecrated on 5th September 1992 by the Grand Supreme Ruler Most Worthy Brother Colonel Geoffrey Seymour Hamilton Dicker CBE TD when he installed Right Worthy Brother Stanley Thomas Geddes as the first Grand Supreme Ruler of the Province until 2001.
Since then, there have now been five holders of this office, Right Worthy Brother Norman Collin, 2001 until 2006; Right Worthy Brother John Lawrence Ward Read, 2006 until 2011; Right Worthy Brother Ian Paterson Duff 2011 until 2017; and Right Worthy Brother Morgan McDonald until 2023 when I had the great Honour and Privilege to be Installed by the Grand Supreme Ruler M. Wy. Bro. Andrew C. Sweeney.
After the difficulties of the last few years and the restrictions due to the covid pandemic and Government Lockdowns, it was a hard task keeping all the Brethren informed and upbeat about the future. I am pleased to say that with the careful attention and leadership of our Immediate Past PGSR the Province remained strong throughout. We do however remember those that we have lost.
The Order has returned and is growing, we have been delighted to welcome back several rejoining Brethren and candidates spread over the province. We also continue our extremely strong and positive links with the Order of the Scarlet Cord and are delighted that the Grand Summus M. Dist. Comp. Ian S. Currans has now moved to Scotland.
The website calendar is a valuable resource detailing OSM and Scarlet Cord meetings throughout all of Scotland the North of England.
Remember Brethren, to join the Order of the Secret Monitor a Brother is only required to be a Master Mason, so please speak to your friends and Brethren and discuss this option as their next step in their progression.
Make 2023 the year where we all try to introduce a new member into our special Order and spread the biblical story of David and Jonathan to as many Freemasons as possible.
Within the Province we have seven Conclaves. Six of them induct Brethren into the Order and one is a Supreme Rulers Conclave which has been names after our first Provincial Grand Supreme Ruler, Stanley T Geddes. The other six Conclaves are Claverhouse of Dundee, Fair City (Perth), Soutra Aisle (Bonnyrigg), Inchcolm (Cowdenbeath), St Michael Linlithgow (South Queensferry), and Roman Brig (Musselburgh). Details of each are on the site.
There are 30 Provinces within the United Kingdom, 3 of which are in Scotland. The Order is governed by the Grand Conclave of the Order of Secret Monitor out of Mark Masons Hall in St James's Street in London by the current Grand Supreme Ruler Most Worthy Brother Andrew Christopher Sweeney.
The Order is based upon the great friendship between David (father of King Solomon) and Jonathan (son of King Saul). If anyone is interested in joining this marvellous Masonic Order, please contact our Provincial Grand Recorder, Worthy Brother Ewan Notman at the following email address; Notmanewan10@gmail.com
R Wy Brother M.W. Greene, Provincial Grand Supreme
Pictured is Deputy Grand Supreme Ruler R. WY Bro Keith B Ferguson, Grand Supreme Ruler M Wy Bro Andrew C Sweeney, Provincial Grand Supreme Ruler R Wy Bro Martyn W Greene and Deputy Provincial Grand Supreme Ruler Wy Bro Brian Wallace-King,