Lindisfarne Consistory 111
On Wednesday 10 July our very own Deputy Provincial Grand Supreme Ruler, V Wy Bro David Thomson will be installed as President of Lindisfarne Consistory 111 in Berwick. He will be installed by our Provincial Grand Recorder Distinguished Companion Martyn Greene. Also on that evening a number of members of our Province will be advanced to the Second Grade of the Order. It is assured to be a friendly and successful evening.
INCHCOLM 406
On Friday 5 July, Inchcolm Conclave 'admitted' two new Princes into the Order. Brothers Grant Forbes and Kevin Thompson were the 'stars' of the evening. Several Conclave Officers were missing but thanks to the friendship within the Order, their places were soon filled by willing volunteers. As Supreme Ruler Wy Bro Ian Barbour could not be there (Get well soon Ian) his place was taken by the Provincial Grand Supreme Ruler, R Wy Bro Morgan McDonald who proved an adequate replacement. Also on that evening Wy Bro W. Stewart Jeffray was elected as the Supreme Ruler Elect. Congratulations to Kevin, Grant and Stewart, and we look forward to seeing your progress in the Conclave.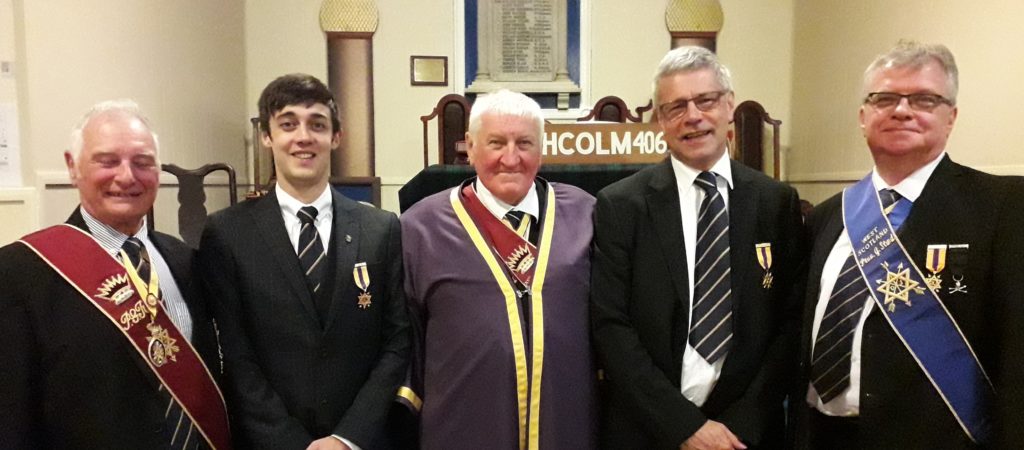 New Princes for Claverhouse
On Saturday 15 June, Claverhouse of Dundee Conclave 334, made two new Princes in Bro Ian Watson and Bro Alex O'Rourke. The Ceremony was exceedingly well conducted by Supreme Ruler Wy Bro Tom Lloyd and his team of Officers. Congratulations to the new Princes and Tom for his first Princes' Degree in the Chair. On that day Claverhouse also elected their next Supreme Ruler, and we all wish Bro Grant Thomson all the very best for his term of Office.
New Members for the Order and Province
On Friday 7 June, Inchcolm Conclave No 406 Inducted 2 new members and welcomed a joining member. Bro Kevin Thompson and Bro Grant Forbes were Inducted into the Order and Wy Bro Stewart Jeffrays, SR of Antonine Conclave in West Scotland joined Inchcolm. Then on Saturday 8 June another Brother was inducted into Roman Brig Conclave No 465, Bro Les Fairbairn. We wish all four Brethren a whole lot of fun in the Order.
Honorary Member Colin Hume is Installed as Provincial GSR of Northumberland
On Saturday 1 June at Byker Masonic Centre, Newcastle, R. Wy. Bro. Colin Hume was Invested and Installed as Provincial GSR of Northumberland. Bro Colin has been a Honorary Member of East Scotland Province for the last five years. There were another 7 members from the Province in attendance to witness the event. We all wish Colin and his Province all the very best for the future.
New Supreme Ruler for Roman Brig Conclave 465
On Saturday 13th April Wy Bro Eric Robert Charles Watson was Installed as Supreme Ruler of Roman Brig Conclave by Wy Bro John Cunningham PGStB in 'Foxy's' own inimitable way. Eric is a very experienced Freemason and has been installed into many 'Chairs' in various Orders so we look forward to seeing Roman Brig hopefully start the road to recovery and improvement. This is no way an indictment on Bro John who has actually filled the chair for the last 5 years. The Harmony Board after the Ceremony was very enjoyable and it was great to welcome visitors from West Scotland and Northumberland.
We now wish Wy Bro Eric Watson and his Conclave all the very best for the ensuing year ahead.